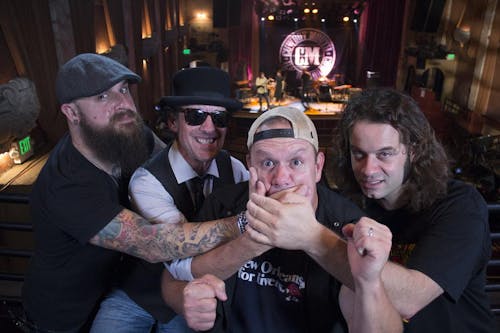 Cowboy Mouth
KALO, Jeff Glatz and Flight 1790
$25.00 - $240.00
Sales Ended
A straight up rockin' night via New Orleans, Oklahoma City and San Antonio
For over two decades, Cowboy Mouth has dished up its unique style of rock & roll gumbo, mixing a rowdy spirit reflective of the band's hometown -- New Orleans -- with the fierce firepower of a group that lives on the road. These Louisiana natives have played more than 2,500 concerts and launched their signature song, "Jenny Says," into the upper half of the Billboard rock charts. Above all else, they earned a well-deserved rep as a raucous, redemptive, live music experience.
Formed during the glory days of grunge music, Cowboy Mouth forged a different sound from the very start. It's a sound rooted in rock, punk, blues, and the attitude of the Big Easy, a town known for its week-long parties and swampy, southern vibe. Bandleader Fred LeBlanc, who'd previously sharpened his teeth with the punk band Dash Rip Rock, pulls double-duty as the group's frontman and drummer, leading the charge with his larger-than-life personality and percussive attack. During the band's early days, record companies warned him against singing and drumming at the same time, claiming that audiences would never go for it... but by the mid-'90s, those same record companies were clamoring to sign the band to a major-label deal.
In other words, in a decade filled with angsty alt-rock, Cowboy Mouth stood out for all the right reasons.
The band released its original music with MCA Records, then Atlantic Records. Once the 2000s kicked into gear, the band released music on its own label, cutting out the middleman and focusing on the biggest thing that's kept Cowboy Mouth afloat since 1990: the audience.
"Cowboy Mouth isn't so much about the people onstage as it is about the feeling in the crowd," says LeBlanc.
The people onstage certainly help, though. Since the band's inception, LeBlanc has shared that stage with guitarist John Thomas Griffith. Now backed by bandmates Matt Jones on guitar and Brian Broussard on bass, LeBlanc and Griffith have led Cowboy Mouth on a wild, critically-acclaimed ride, selling more than 500,000 albums domestically, playing shows with artists like Bo Diddley (whose bluesy, beat-driven music has always been a big influence on Cowboy Mouth's own sound), and performing in front of more than 9 million fans.
Go!, the band's newest album, is proof that Cowboy Mouth hasn't lost its bite. It's the most collaborative album of the group's career, performed with ferocity by a group of rock & roll veterans who've been there, done that... and can't wait to do it all again. "I'm just a little older, but I ain't dead yet!" LeBlanc sings during the very first song, kicking off a record that's steeped in the ageless energy of the band's live shows.
Cowboy Mouth's music lives in concert with its loyal fans! Fred's raw and engaging performance style has played ring leader to the audience for decades.
"Our shows are celebratory, life-affirming experiences," LeBlanc says proudly. "With every show, no matter where it is, we try to turn it into New Orleans during the middle of Mardi Gras. It's an unique live concert experience. It's like a southern gospel revival without the religion."
Over the years, an estimated 9 million people would agree. We hope to see you all out on the road!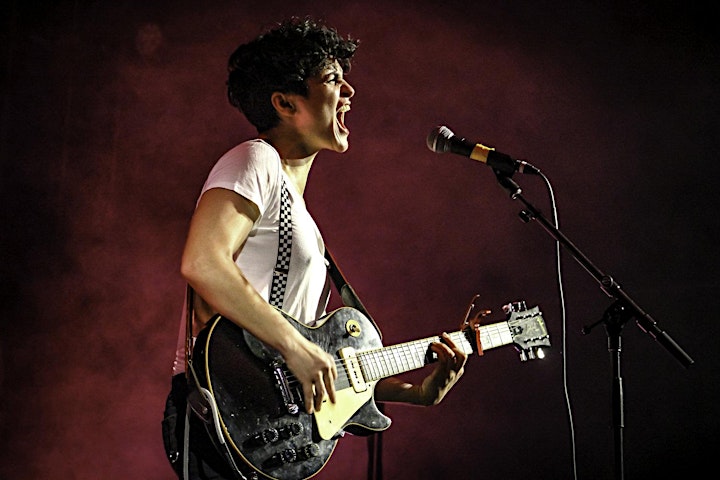 Israeli guitarist, singer and songwriter Bat-Or Kalo fronts her eponymous trio and also travels and tours the U.S. and Israel solo (wearing only her last name and her vintage Gibson electric guitar). Fiery, unbridled and electrifying, KALO's guitar chops and contralto voice are a force like none other. Sexy guitar. Infectious rhythms. Smoky vocals. KALO is groovesome rhythm & Blues meets fiery rock 'n' roll.
KALO defies convention, channeling power trios like The Police, The Jimi Hendrix Experience, Rush or Cream. Much in the vein of Led Zeppelin, the band fuses blues-influenced songs with rock and roll anthems and electric shows. With only a bass, guitar and drums, the band delivers powerful stage performances and an unparalleled sound.
Within the past two years, KALO has opened for Los Angeles-based rocker Andy Frasco, the godfather of British blues, John Mayall, Texas guitar phenom Chris Duarte and others. KALO has shared billing with acts like Avett Brothers, Robert Randolph & the Family Band and many more.
They were nominated for an Independent Music Award in the 2017 Best Alt/Indie Rock Album category for their album Wild Change. Find Wild Change and the rest of KALO's repertoire here.
"WITHIN THE PAST TWO YEARS, KALO HAS OPENED FOR LOS ANGELES-BASED ROCKER ANDY FRASCO, THE GODFATHER OF BRITISH BLUES, JOHN MAYALL, TEXAS GUITAR PHENOM CHRIS DUARTE AND OTHERS. KALO HAS SHARED BILLING WITH ACTS LIKE AVETT BROTHERS, ROBERT RANDOLPH & THE FAMILY BAND AND MANY MORE."
In the summer of 2017, KALO released the funky, guitar- and rhythm-laced studio album, Wild Change to much acclaim. It was fresh on the heels of Live in NYC, recorded at the renowned The Bitter End music club in New York City and released in late 2016.
Based in the Midwest for the past three years as she zigzags the country, KALO's roots run deep and trace back to her home an ocean away in Israel. A cassette tape of Jimi Hendrix's "Are You Experienced" set KALO on a musical path when she was 16 years old. In 2009, that path stretched across the Atlantic when KALO left Israel to soak herself in American music, the sounds of Hendrix, Jim Morrison, John Lee Hooker, Nina Simone and Elvis calling.
After completing her classical and jazz guitar studies in Oklahoma, she briefly returned home to record her jazz-imbued Flesh & Bones in Tel-Aviv. Afterward, KALO moved to New York to hone her skills as a live performer, frequenting stages like The Bitter End, Arlene's Grocery, Rockwood Music Hall and others.
In 2012, KALO left The Big Apple to strum her guitar and write in the heart of Dixie. Her sophomore album took root in the Mississippi Delta and other southern states, where the blues tinge of Dear John began to grow. Released in 2013, the album received much critical acclaim from media around the world.
Over the next several years, KALO developed a loyal following with fevered stage shows and raw energy, supported by no small part by powerhouse drummer Mike Alexander. Brandishing a unique and genre-bending interpretation of the blues and rock 'n' roll, everything about KALO is unexpected … and infectious. As Skope Magazine put it, "There's a truth, pure and simple ... that leaves you wanting more." Read more KALO reviews here.
"THERE'S A TRUTH, PURE AND SIMPLE ... THAT LEAVES YOU WANTING MORE. "
— SKOPE MAGAZINE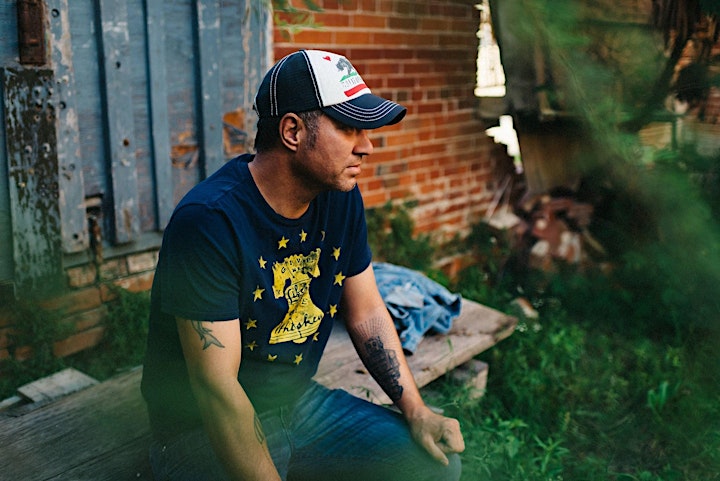 Texas-based artist Jeff Glatz has an unaffected, straightforward songwriting voice and an accessible, roots-rock sound. He got his start playing and writing songs with his brother Don in the Pittsburgh-based, indie rock band Peacefield. They scored regional success with two LPs and a full schedule of live shows, which led to tours with The Goo-Goo Dolls and 10,000 Maniacs, as well as song placement in film and TV. In 2006, the brothers moved to the Texas Hill Country, and gained a loyal following playing venues in San Antonio, Austin and surrounding towns.

After the 2009 release of "Stars Away" and a few years jam-packed with shows, Glatz was ready for a break. He began hosting living room concerts for notable artists such as Will Johnson (Centromatic, Monsters of Folk), Sarah Jaffe, David Bazan and Tommy Stinson (The Replacements), among many others. These intimate performances inspired him to take his music in a more personal direction, and he began work on his first solo endeavor.

In 2016, Glatz released Multiverse, a 4-track solo EP of lush compositions that Bob Andrews of Undertow Music Collective called "a beautiful sonic landscape," and Jonathan Segal (Camper Van Beethoven, Sparklehorse) described as "really nice, dreamy and heavy." The recording included three original love songs juxtaposing earnest lyrics with a wistful, multilayered production, and closed with a slowed-down, ethereal cover of A.A. Bondy's "Lover's Waltz." Recorded by Steve Tagliere (Gingersol) in Katy, Texas, the tracks were mixed by Duane Lundy of Shangri-La Productions, in Lexington, Kentucky, whose work with Jim James, Ben Sollee and These United States drew Glatz to him. Lundy's knack for delicate, atmospheric touches was right in line with Glatz's production ideas for these deeply personal songs, making it a perfect creative fit.

Glatz was so impressed with Lundy's work on Multiverse that he headed to Kentucky to have Lundy record and mix his first solo LP, Disappear, scheduled for release in the fall of 2019. The recording took two trips, during which Glatz fell in love with Lexington and the entire team Lundy brought together to work on it. "Obviously, Duane's background speaks for itself — he's a musical visionary, and produces amazing work," Glatz says. "But, beyond that, he has a gift for making an artist feel instantly comfortable and confident. He's generous in the sense that he is absolutely without pretense, and is wide open to ideas. That freed me up to be myself and create without self-consciousness. He knew just the right musicians to bring to the project — not only incredible talent, but an awesome bunch of people. I was inspired by each of them, and, by the end of both visits, it felt like I'd known them for years."

Disappear includes six original tracks by Glatz and a joy-filled cover of Mason Jennings' "Between the Lines." Glatz hopes the dynamic rhythms and multilayered sound give each track something of a luminous glow. He says, "These are honest and straightforward songs about love and all that can come with it — satisfaction, insecurity, bliss, hopefulness, melancholy and peace. But they're based on pure, raw emotions that are simple and heartfelt. Some are stories I've had in my head for a while. Singing them feels like I'm telling truth without a filter, even when it's not necessarily my truth. Either way, it was very therapeutic to make, and I'm excited for people to hear it."

Venue Information:
Six Springs Tavern
147 N Plano Rd
Richardson, TX, 75081