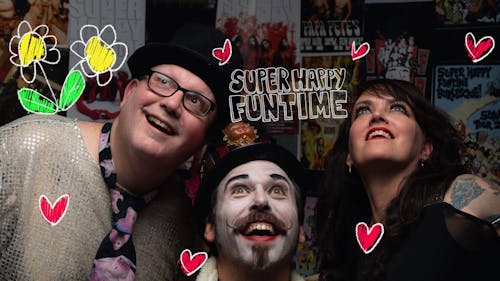 Super Happy Funtime Burlesque
ManifestiV
A full on variety show! Comedy, Burlesque and Live Music!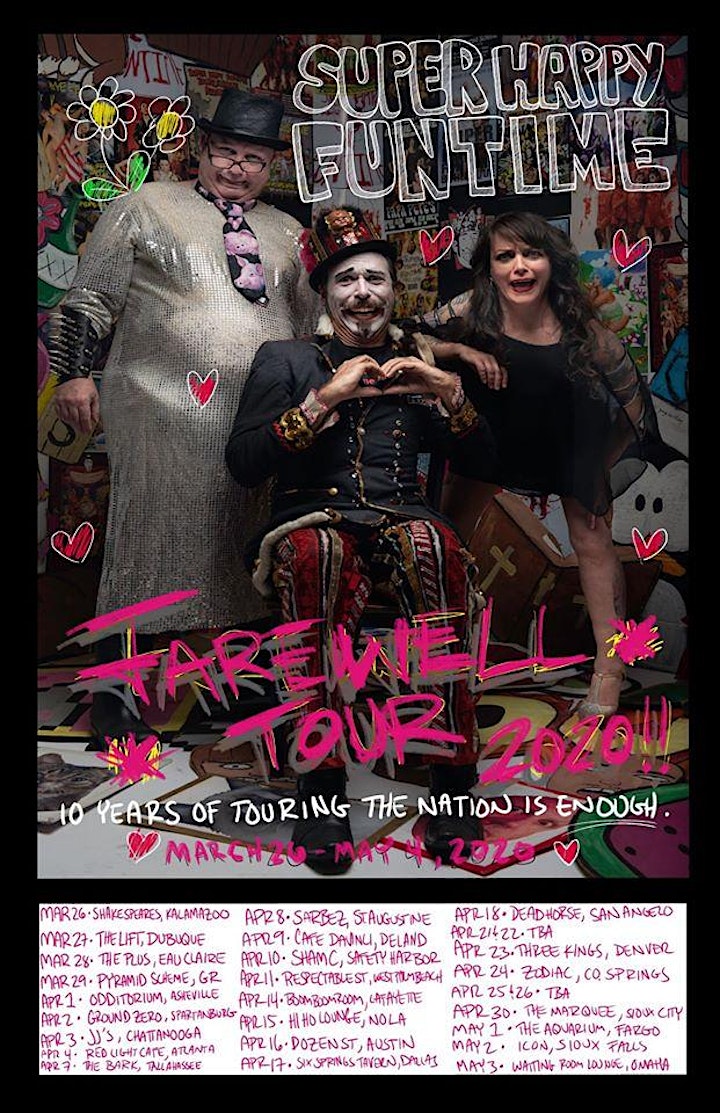 "Super Happy Funtime has been around for 14 years. They've been touring the nation for 10 years. They live in a big red school bus. There is no show like SHFB anywhere else in the USA!
Utterly unique and unclassifiable; Super Happy Funtime is all at once a live band, an original work of musical theater, a comedy show, a bawdy and sexy theatrical production, a giant ball of chaos rolled up into one neat little production that has been leaving jaws on the floor for over a decade.
Defying the odds, this 12 member production plays nearly 100 shows a year around the nation. Super Happy Funtime fancifully and musically deconstructs taboos and convention using original music that backs up a cast of playful and beautiful burlesque dancers.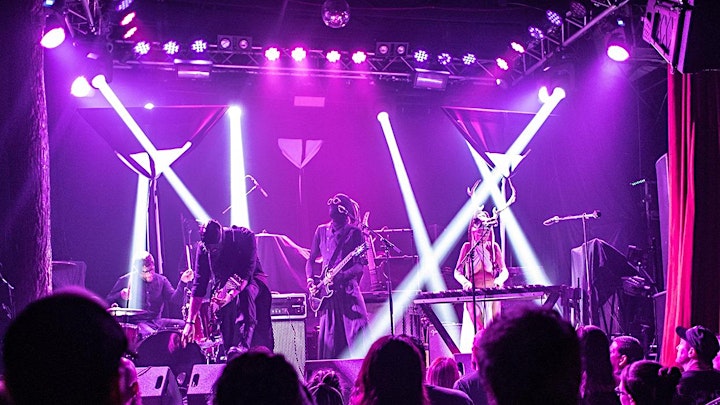 ManifestiV formed as an experimental industrial duo in Vallejo, California in 2014 by two morticians that met years prior in Dallas, Texas. Paragraph Taylor, guitarist & programmer, joined forces with EvE, vibraphonist & visual artist. They used their instruments in new ways, scoring the imminent end of human civilization with his downtuned guitars & her electronic vibraphone she built herself, aiming to guide humanity off Earth to explore & build other worlds while possible.

After a live debut at SXSW that same year, Einer Sie Gern, ManifestiV's self-made debut LP recorded in their Vallejo home, spurred extensive DIY touring after its San Francisco release at the tail end of 2014. For years to follow, the duo only stopped US tours for Burning Man & travels to Southeast Asia, Central America & Europe before recording God is a Martian with Nate Nauseda at Prairie Sun in Cotati, California. The EP was mixed after OctouR (spanning 7 months / 45 shows) by CJ Bills near Austin & released late 2018 back in Dallas at Curtain Club, months before it closed.

ManifestiV based in Dallas for 2019, back full circle where they had met on the same decade's other side. After releasing the GiaM counterpart 3vE in the Spring, the band spent summer expanding live personnel with a stellar rhythm section, dear friends borrowed from fellow Dallas band Secret of Boris, ¶'s other industrial & more hard rock act. The newly modular quad format of ManifestiV makes each performance even more of a wild card than the last. The band experiments with modular personnel configurations & testing new material performing throughout Texas in 2020, shaping works for release in the new decade before the "next big chunk" of tour.

Venue Information:
Six Springs Tavern
147 N Plano Rd

Richardson, TX, 75081