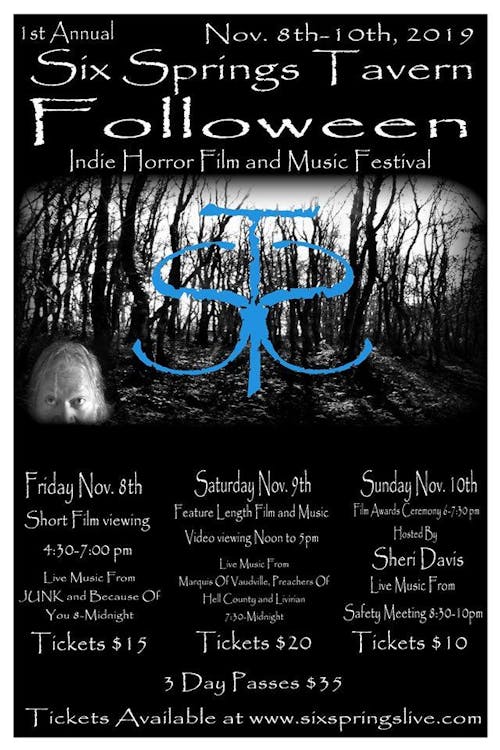 Six Springs Folloween Indie Film and Music Festival Day Three
3 Days Of Indie Horror Films and Live Music
Day One~ Friday Nov. 8th
Short Film Screenings 4:30-7:00 PM
Live music from JUNK and Because Of You 8 PM to Midnight
Day Two~ Saturday Nov. 9th
Feature Length Film Viewing Noon - 5 PM
Live Music From Marquis Of Vaudeville, Preachers Of Hell County and Livirian 7:30 PM -Midnight
Day 3~ Sunday Nov. 10th
Film Awards 6-7:30 PM
Live Music From Safety Meeting 8:30-10:00 PM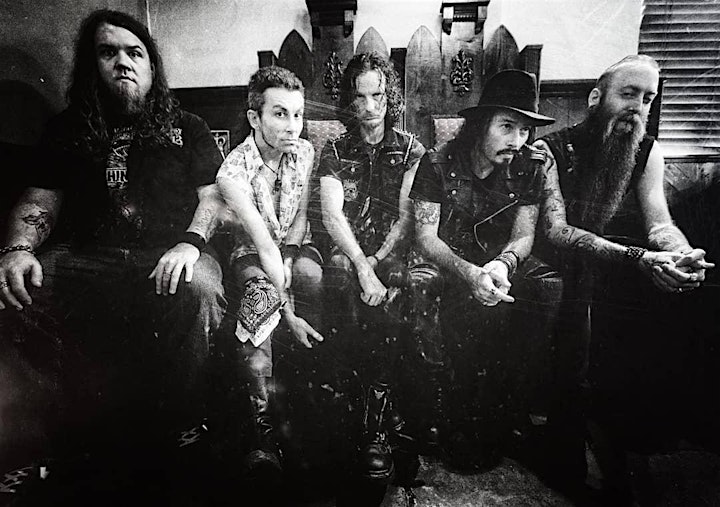 Actor Billy Blair fronts Dallas, Texas rock group JUNK (Zombie Shark Records) and has appeared in films such as Rob Zombie's upcoming horror flick 3 From Hell, as well as Alita: Battle Angel, Machete, Machete Kills, The Last Stand, Jonah Hex, and Sin City: A Dame To Kill For, and many more. The band also features Benjamin K Bachman on vocals and drummer Noah "Shark" Robertson from Motograter, Jeffrey Nothing, and The Browning; as well as Phil Sahs on bass guitar, David Dunlevy on guitar, keyboards, and backing vocals
JUNK recently opened for Steel Panther in Dallas, Texas and performed March 9th and 10th in Austin, Texas during SXSW at Dirty Dog Bar. The band also just announced a tour with Jeffrey Nothing from Mushroomhead.
The band takes influence from a wide range of artists such as Billy Idol, SOUNDGARDEN, Danzig, INXS, Dooby Brothers, and Alice In Chains and has shared the stage with bands such as Skid Row, Dokken, Faster Pussycat, Steel Panther, and more.
They have just debuted a new song, Pop Rock Genocide which was recorded and produced at Soundhaven Studios in Rockwall, TX by Jason Schauer and was mixed by Travis Wyrick (P.O.D.,10 Years, Shinedown). The song is featured in the horror/comedy movie CHEROKEE CREEK out now!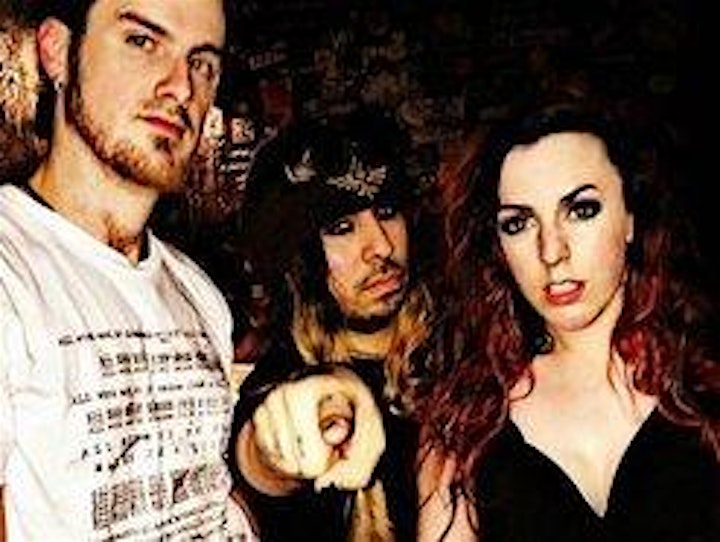 Because Of You, aka B.O.Y, is a Dallas based alternative rock band formed by the frontwoman Leslie Ann Bass in 2015. ***This is just the beginning more to come .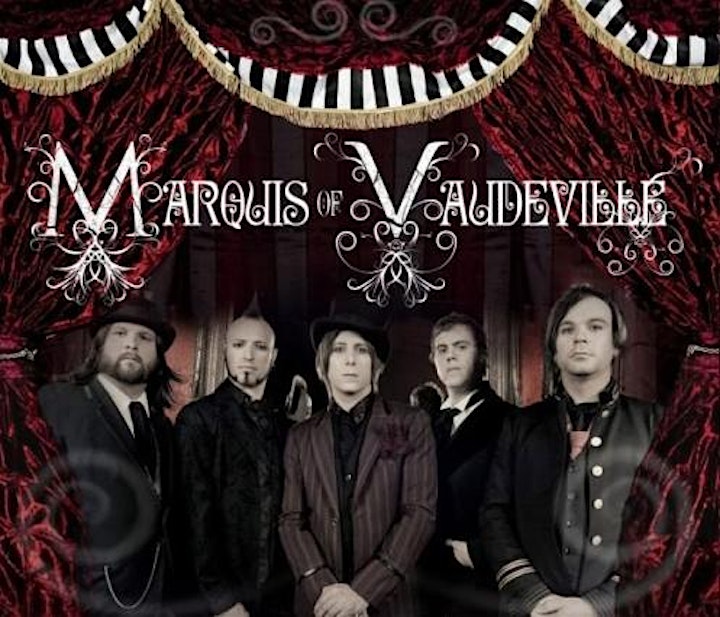 Having the ambitious wish to propel the entire world into a melodic vortex, Marquis of Vaudeville emits an extraordinary sound that spirals listeners on an utterly imaginative, musical merry-go-round. One never knows what moodswung journey they'll embark upon once these musical highwaymen hijack their consciousness.
With imagination at its core, the theatrical flair and intriguing nature of their songwriting has grasped the attention of music lovers from the most critical of music elitists to the average radio listener. Although performing frequently at festivals and pop culture fandom, goth/horror, & steampunk conventions, the musical menagerie is widely known for their own extravagant Vaudevillian inspired sold-out spectacles such as 'A Clockwork Wonderland: Through Aether & Mysterium' (whose live video for 'Utopian Playland' won 'Best Performance Video' at Radio KSCR's Music Video Awards), 'Gadgets & Gobstoppers: The Twisted World of Wonka', 'Unlucky 13', and the show that shares the grandiose title of their ambitious debut album "The Great Promenade of Fools & Ghosts"(album available at movmusic.com).
The group is known the world over for their progressive, carnival-esque, punk-cabaret stylings, fusing timeworn elements of the old world with newfangled innovation, a sound they've dubbed 'melodic mischief' due to the music's mysterious, yet playful nature. With their new album 'The Tragic Valentine' (released Halloween 2017) Marquis of Vaudeville has set the creative bar higher with this alternative rock opera full of anthems, ballads, and waltzes, and their video for the single We're All Mad Here continues to win accolades at film & music video festivals across the globe.
Internet and terrestrial radio such as Texas' leading rock/alternative stations 97.1 The Eagle (Dallas), 102.1 The Edge (Dallas), 94.5 The Buzz (Houston), as well as Boston Rock Radio, and The Real Radio Show out of New York have embraced their music and featured such songs as 'An Ordinary Day'; a theatrically twisted punk-cabaret thrill and 'Corps of Night'; a rebellious rock anthem to lead the lost and hearten the forgotten. MoV also performed in 2015 at 102.1 The Edge's major music festival, Edgefest, with other artists such as Death Cab for Cutie, Modest Mouse, and The Offspring.
The act has composed and licensed music for a variety of film projects & television shows such as the syndicated series 'Charmed' & Showtime Network's hit series 'Dexter'. They've also been featured in such publications as Alternative Press, Buzzfeed, Huffington Post, Race Point Publishing's book 'Anatomy of Steampunk' as well as 'Gearhearts Steampunk Glamor Revue'.
​
Hate them, love them, they demand the world take notice, and desire to incite something genuine, to inspire sincere emotion despite the world's mind numbing mediocrity and generic mass production. Marquis of Vaudeville is a tantalizing flavor for even the most finicky musical appetite.
Preachers of Hell County bring a unique blend of psychobilly and western swing to formulate a sound that has won many fans sharing the stage with artists from death metal to two step country. Based in the Lone Star State, Live Music Capitol of the World, Austin, Texas these guys bring both a visual and musical performance that places them in a category unto themselves.
The innovation of guitarist, singer, and composer, C.V. Wood would not be complete without the principals of power that are upright bassist – John Lewis and drummer – Abe Combest engineering this symbolic train of sound on down the tracks. Many purveyors of this power trio have garnered the Preachers to the likeness of Reverend Horton Heat, Hank III and Primus.
Currently promoting their 2nd release Seven Deadly Songs of Sin and debut video – The Devil's Trilogy, with worldwide distribution through Discmakers/CD Baby, YouTube, Facebook and your favorite music and social media sites
C.V. Wood Guitar and Vocals
John "Johnny Two Guns" Lewis - Bass and backing vocals
Abe "Thundercat" Combest - Drums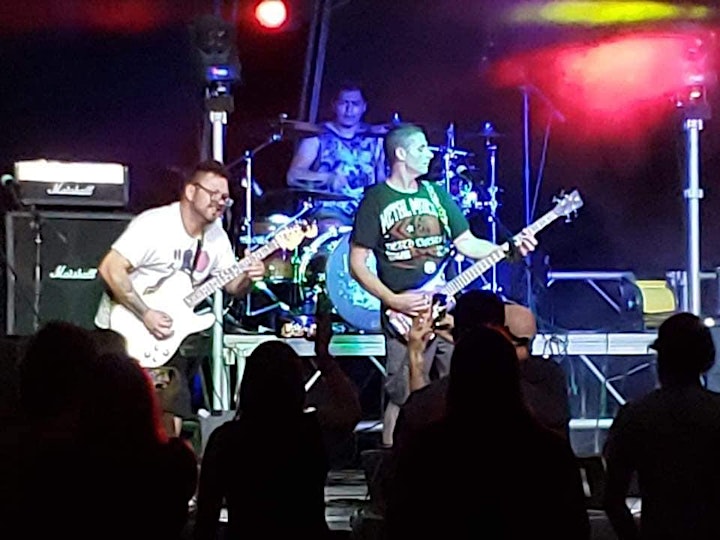 Modern/Hard ROCK out of Dallas! 4 years in the making.
Justin Smith Vox/Guitar
Donnie Johnson-Guitar
Chad Goldmon - Bass
Joe Garcia- Drums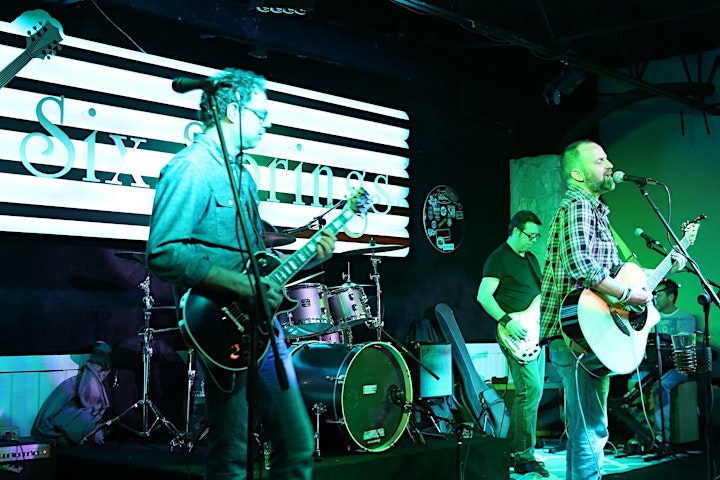 We started out by practicing in my living room. We spent many long nights writing, playing, and drinking to produce our first album. Our group was cemented together through a love of music and a passion for creating.

Despite sharing many of the same interests and pastimes, we all are inspired by different things that lead us to work seamlessly in a creative setting. We take turns writing our parts and lyrics so we are all invested in each song and its meaning.

Our music blends rock, acoustic melodies, and electric keys to create a unique sound. Our lyrics are personal and inspired by our own lives. We've written about the excitement of traveling, love, and getting older while trying to maintain our sanity.

Kris Cordell

Mike Smith

Erik Malm

Michael Marchioni

Mark Evans

Venue Information:
Six Springs Tavern
147 N Plano Rd
Richardson, TX, 75081