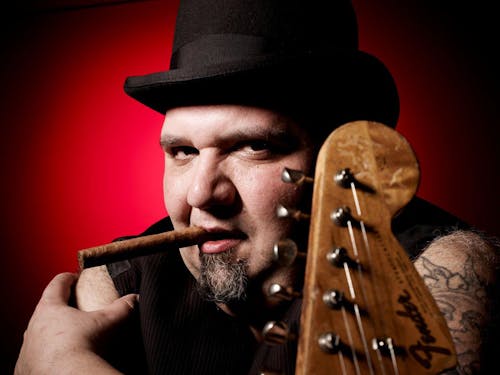 Popa Chubby
Jeff Plankenhorn Band
An amazing night of blues, rock and etc. from two of the best guitar slingers in the business.
Popa Chubby, born Ted Horowitz, has been hard rocking the blues in his fierce and soulful way for more than 25 years. Over the course of a career that dates back to 1994, he has been a force of to be reckoned with on the guitar, and his tempestuous, soulful playing has never been more powerful. An imposing figure with a shaven head, tattooed arms, a goatee and a performance style he describes as "the Stooges meets Buddy Guy, Motörhead meets Muddy Waters, and Jimi Hendrix meets Robert Johnson," Popa Chubby is an endearing character who is one of the genre's most popular figures.
His career has always been about moving forward and carving a place for himself in the imposing terrain of the music business, overcoming odds to continue growing and maturing as a creative force. He has built a constantly increasing base of fans across the world, where in many territories he is a star. A native New Yorker, Horowitz's first gigs were in the NYC punk scene as a guitarist for what he reflects was a "crazy Japanese special effects performance artist in a kimono called Screaming Mad George who had a horror-movie inspired show." Right from the start
he was immersed in rock 'n' roll as theater, and learned from George and others playing CBGB's at the time that included the Ramones, the Cramps, Richard Hell, whose band, the Voidoids he joined that rock 'n' roll should be dangerous. He reflects, "Musicians like the Ramones and the Sex Pistols weren't just bands. They were a threat to society."
The Blues however was the foundation of his playing style. He recalls, "Since I'd grown up on Hendrix, Cream and Led Zeppelin, when I started playing blues in New York clubs I understood that the blues should be dangerous, too. It wasn't just from playing in punk bands. Howlin' Wolf and Muddy Waters were dangerous men. They'd cut or shoot you if they thought it was necessary, and Little Walter packed a gun and wouldn't hesitate to use it. That danger is a real part of the Blues and I keep it alive in my music."
Popa Chubby is his own man for better or worse. He reflects, "I'm living in a wild time, and that is where the inspiration is drawn from. There are my issues, but the picture is much bigger than me and my situation. Everything is breaking down in the world. The lines are being redefined. We all need something."
AUSTIN GUITARIST JEFF PLANKENHORN SHIFTS FROM SIDE (AND SLIDE) WORK INTO THE SOLO SPOTLIGHT WITH ASSERTIVE SINGER-SONGWRITER SHOWCASE, SLEEPING DOGS, AVAILABLE NOW
Roots-rocking follow-up to 2016's acclaimed SoulSlide finds the Ohio-born, Texas-based artist expanding his musical playing field with help from friends Ray Wylie Hubbard, Patty Griffin, and co-producer "Scrappy" Jud Newcomb.
AUSTIN, Texas — When Jeff Plankenhorn, arguably one of the busiest and most highly regarded guitar players on the Austin music scene, tells you that he "hardly ever takes sideman gigs anymore," take it with a grain of salt.
Yes, it's true he's made a concerted effort to carve out more time for his own solo career ever since issuing his breakout second studio set, 2016's SoulSlide — and he aims to find even more of that "me time" come the May 4, 2018 release of his new album, Sleeping Dogs on Spike Steel Records.But as far as scaling back on the whole sideman thing goes ... bear in mind that there's a big difference between "hardly ever" and never. Namely, the former still leaves the guy just enough wiggle room to happily say "yes" when legends (and friends) on the level of Ray Wylie Hubbard or the Flatlanders need a can-do guitar man for a sold-out theater engagement. Or, say, when fellow A-list Austin sideman "Scrappy" Jud Newcomb — the MVP co-producer of Sleeping Dogs — finds out he can't make it to a very special Johnny Nicholas gig in Hawaii, and asks "Plank" if he'd be up for subbing for him. Who in their right mind is going to say no to that?
Plankenhorn still selectively takes those kinds of calls not because he gets them, but because he's earned them. For the better part of the last 17 years, ever since he first moved to Texas with nothing to his name but a Geo Prism, $100, seven guitars and the generous hospitality of Ray and Judy Hubbard, the gifted multi-instrumentalist from Columbus, Ohio has busted ass to prove himself not just able and willing, but above all worthy of playing with the best of the best. And the reason so many song poets like Hubbard and Joe Ely like having Plank at their side is not just because of his prodigious chops on all things stringed (especially those played with a slide), but because of his intuitive knack for knowing when to hold back, always allowing the singer room to land a lyric and go for the proverbial kill. "That's just part of the skill set I learned very early on: 'When in doubt, layout,'" Plankenhorn explains with a chuckle. "That joke about knowing when not to play? It's true."
Not surprisingly, that particular skill — along with myriad other lessons in the finer points of songcraft that he's picked up from sharing stages with the masters — has come to greatly inform Plankenhorn's own music over the years. But it's never been more apparent than it is on Sleeping Dogs. Make no mistake: Plank plays a lot of guitar on the album, along with pedal steel, piano, upright bass and seemingly anything else he could lay his hands on during the sessions at the Zone recording studio just outside of Austin. But in stark contrast to SoulSlide, which by his own admission was by design a showcase for his custom-designed lap slide guitar, a patented "Frankenstein" beauty he calls "the Plank," Sleeping Dogs is first and foremost all about the songs.
"The Plank guitar came from me wanting to mix together the two worlds of bluegrass dobro and the sacred steel tradition, and my whole last album was dedicated to that one instrument — to get it out there," he says. "SoulSlide also really helped put me on the map as a solo artist, which is why I've moved on to focusing more on doing my own thing and only doing a side gig once in a while when I really want to, with people that I really respect. But now, with Sleeping Dogs, I wanted to take a bigger look at how the whole world of music is available to me; it's not about just one guitar or sound, but rather about using all of the instruments I play and bringing all of my influences together — and about really wanting to bring my songwriting to the forefront."
To that end, there are no covers on the new album, but half of the songs were born out of co-writing sessions with a handful of his longtime friends including his co-producer (and bandmate in Austin's the Resentments) Newcomb, Gabriel Rhodes, Miles Zuniga, Jon Dee Graham, and of course Hubbard — the "Wylie Llama" of Americana/Texas music, who Plankenhorn still credits as his personal gateway to the whole scene. "Pretty much everyone I've ever played with is like, one degree of separation away from Ray," he marvels with a laugh. It was also Hubbard who set Plankenhorn straight years ago when he doubted his own merits as a songwriter.
"I had just started out playing some of my own songs at these little acoustic gigs, but I remember telling him, 'Ray, I don't think I should be doing this — I'm just a side guy.' And he said, 'Where's your proof? Are people coming to your shows? Are people listening to your songs? Yes? Well, there's your proof.'"
Naturally, the song Plankenhorn and Hubbard cooked up together, a satisfyingly greasy howler called "Tooth and Nail," just happens to be all about the not-for-the-timid troubadour path and the discipline of songwriting, without so much as a grain of sugar to sweeten the pot. "We had already written a good portion of the song when he came back to me and said, 'It's like an old cat having kittens / You just crawl under the porch and do it,' which is a very Ray line," Plankenhorn says. "But what's cool is there were other lines where his wife, Judy, was like, 'Ray must have written that,' and I was like, 'Ha, no, that was me!'"
And the Hubbard-certified gnarled blues of "Tooth and Nail" is just one of a handful of different styles Plankenhorn makes his own on Sleeping Dogs. Both the hurricane Harvey-inspired "Further to Fall" (co-written with Rhodes) and the closing "Heaven on Earth," Plankenhorn's awestruck tribute to his wife's transcendent love of nature, hit the same deep, soulful notes that defined his last album (with that trusty Plank guitar put to especially righteous use on the latter song). But there's also "This Guitar," a disarmingly folky, listening-room-ready paean to the workhorse acoustic Martin that's been his go-to writing guitar ever since it was anonymously gifted to him not long after he first moved to Texas. And perhaps most surprising of all (even to Plankenhorn himself), there's even a few free-spirited ventures into buoyantly catchy, unabashedly poppy rock 'n' roll.
"I had already recorded a few rhythm tracks before this, but the day that Scrappy first came to the studio was also the day that Tom Petty died — and somehow, everything just kind of shifted that day," he says. "Not on the entire album, but for a good portion of it, there were discussions of like, 'What would Mike Campbell do on this guitar part?' And out of that, some of the songs like 'Sleeping Dogs' and 'I Don't Know Anything' really changed and moved into more of a roots-rock thing. Which wasn't something I was expecting — I mean, it came out of nowhere — but I loved it."
That wouldn't be the last happy surprise, either. The stately, hymn-like "Holy Lightning," an arresting co-write with Newcomb and Zuniga (of Fastball fame), actually almost didn't make the final cut. "I had started that one myself but just really wasn't digging it, so I took it to Miles and Scrappy in the studio, and between the three of us we completely reworked it from scratch over a couple of hours," he recalls. "But even then I still wasn't entirely about it. But then Scrappy sent the demo to Patty Griffin, and she goes, 'I want to sing on this!' As soon as she said that, I was like, 'Well, I'm definitely putting it on the album now!'"
Needless to say, "Holy Lightning" is now one of his favorite songs on the record. Not that there's a single track that he's not proud of on Sleeping Dogs, which is a testament both to the positive experience he had recording it and the confidence he feels going forward into the next stage of his career. And should he even find himself second-guessing his conviction on that solo sojourn, well, he's already written his own anthem to sing his way through the doubt.
"When I wrote 'Sleeping Dogs,' I got this image of sleeping dogs lying, and how I need to let shit go," he explains. "I literally took a lot of things that I'm really bad at or think I'm really bad at, and told myself, 'If I sing this for a year or two on tour, it may make me better at these things; maybe I won't take stuff personally, won't let things get me down.' And I thought, 'Maybe somebody else will hear this song and maybe it will help them, too.' And I really like that idea: I like the idea of writing songs that have a little moral imperative to them."
Some would call that a sense of purpose. Or, as Hubbard put it best to Plankenhorn way back at the start of his journey, "There's your proof."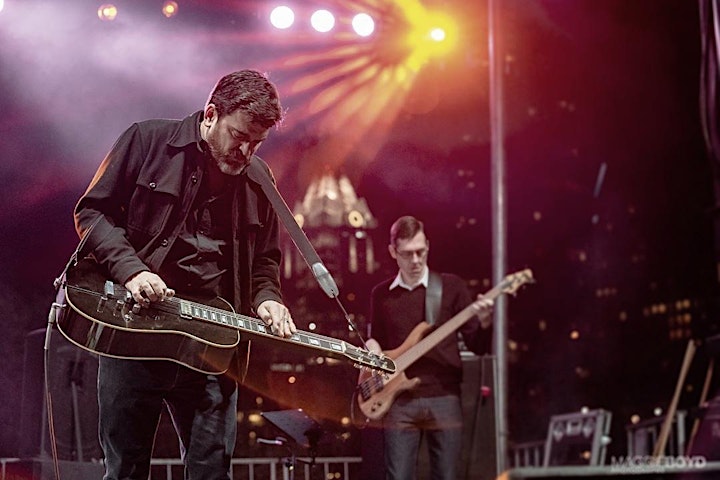 Venue Information:
Six Springs Tavern
147 N Plano Rd
Richardson, TX, 75081