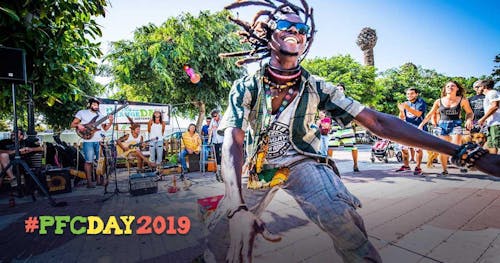 Playing For Change Day 2019
School Of Rock Plano
Jeff Glatz
Tony Ramey
The Kirby's
Sunny Disposition
Jacob Price Zazz
Our second annual Playing For Change Day here at Six Springs spreading the universal musical vibration for a better planet through music.
https://playingforchangeday.org/
Playing For Change is a movement created to inspire and connect the world through music, born from the shared belief that music has the power to break down boundaries and overcome distances between people.
Our primary focus is to record and film musicians performing in their natural environments and combine their talents and cultural power in innovative videos we call Songs Around The World.
Creating these videos motivated us to form the Playing For Change Band—a tangible, traveling representation of our mission, featuring musicians met along our journey, and establish the Playing For Change Foundation—a separate 501(c)3 nonprofit organization dedicated to building music and art schools for children around the world.
Through these efforts we aim to create hope and inspiration for the future of our planet.
School of Rock is the world's largest and most trusted multi-location music school with tens of thousands of musicians going through our classes, workshops, camps and performance programs every day. Our leadership team members combine business savvy, a passion for music and a drive to help children succeed.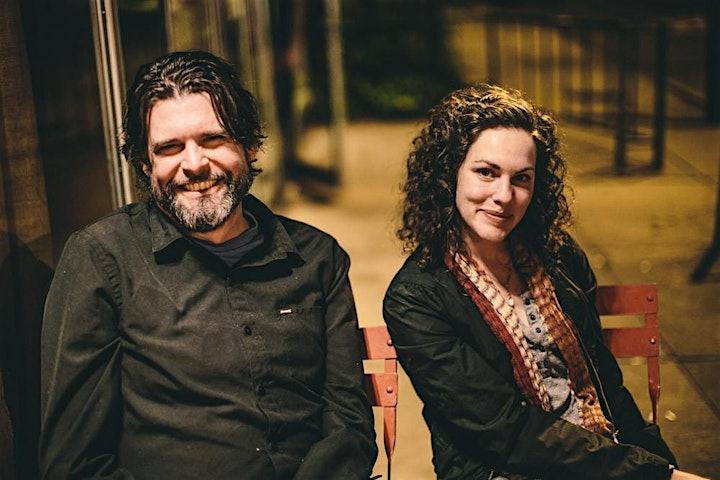 Will Sexton, whose writing credits range from work with Waylon Jennings and Stephen Stills to Joe Ely and Bill Carter, is shaped by the unique diversity of the Austin music scene. Fate and his own sheer talent placed him on stage with local legends before he'd lived out his first decade. Will and his big brother, Charlie, started playing together at the Continental Club when Will was 9 and Charlie was 11. Many of the sounds of his childhood still resonate in his current work. Will received early success in Austin and was signed by MCA at age 16. He has survived in the tough Austin music scene by playing gigs with a variety of notable artists. It is never unusual to go out to catch a show featuring an Austin singer/songwriter and see Will onstage.
Will's credits as producer and songwriter range from collaborations with Waylon Jennings to psychedelic pioneer Roky Erikson to Steve Earle and punk legend Johnny Thunders. Will has written for MCA and Almo Irving and recorded for MCA, A&M, and Zoo Entertainment. Will was in the New Folk Underground with David Baerwald, which resulted in the co-produced (w/ David Kitay) Lost Highway release Here Comes the New Folk Underground. Will names Terry Allen and Sheryl Crow hitmaker David Baerwald among his favorite writing partners. 2009 marked the completion of new production credits, including Randy Weeks' Going My Way, and Ruby James' CD, Happy Now, co-produced with his brother Charlie Sexton. Will also enjoys performing with Charlie Faye, Sahara Smith, and Shannon McNally.
Will has amassed an impressive collection of songs over the years, releasing his first independent album, Scenes From Nowhere, in 2001, which received a four-star review and was honored in the Top 5 Releases of 2001 by the Austin American-Statesman. Bus Stop Gossip, a previously unreleased recording from 2004, was unearthed and released in 2009 and was followed up by Move the Balance in 2010.
Things came to a temporary halt in December 2009 when Will suffered a mild stroke. Though he had a remarkable recovery, he was unable to remember much of the music he had written and played almost daily as a working musician. For him to be unable to connect with those songs mentally since the stroke was a setback few musicians could even imagine. The Austin music community has always been known for taking care of its own and came out in full force for a music benefit in honor of one of Austin's golden sons to raise money for Will's living expenses and medical bills. While Will was working through the recovery process, Move The Balance was released two months later without much notice and to very little fanfare. This is an album not to be overlooked. It includes eleven new songs recorded by Mark Hallman and Andre Moran in twenty-two hours at Congress House studios in South Austin. Musicians on the CD include Will Sexton on vocals, guitar and bass, Mike Thompson on piano, guitar and trombone, Bukka Allen on B3 and accordion, Dony Wynn on drums and percussion, Ray Bonneville on harmonica, and Bill Carter on additional bass. Additional guest vocals were provided by Mark Hallman, Ruby "Red" James, Charlie Faye and Nöelle Hampton.
There's something uniquely fun about Amy LaVere, even when she's breaking your heart.
She is well known among songwriters and critics alike. NPR's Robert Siegel says she "specializes in lyrics that are more barbed than her sweet soprano prepares you for." Her growing catalogue of material and steady critical acclaim suggest a first-tier presence on the Americana and indie-folk/punk circuits. Her latest album Painting Blue comes out August 16th on Nine Mile Records (Glorietta, David Wax Museum, Carson McHone, Patrick Sweany, Greyhounds).
Amy's live performances are anything but predictable. She might appear on stage with a full band, sporting a mask and pink wig, or simply be a natural in blue jeans and sandals, but her upright bass and clever song delivery are constants. Her voice is at once the bully and the victim. She's performed in venues as wide-ranging as St. Andrew's Hall in London and Memphis' famed dive bar Earnestine and Hazel's. There's no room she can't find an audience in and charm it to pieces.
Born in Shreveport, Louisiana, this future bard moved continuously throughout childhood due to her father's job. She spent notable parts of her life in Canada, Texas, Maryland, Illinois, Ohio and Michigan. Outside of Detroit and only just entering high school, Amy formed her first band and began writing and performing. Music fans first discovered this "sweet soprano" on This World is Not My Home in 2005, but it was her Jim Dickinson-produced breakout album Anchors & Anvils two years later that put Amy LaVere on the map. Stranger Me, the 2011 release on Archer Records, was called "the break-up album of the year" by Spin. Paste said it was "among the year's best," and it earned a first listen feature from NPR's All Things Considered. She followed it in 2014 with another critical smash: Runaway's Diary, a concept album based on her own experience as a teenage runaway, produced by Luther Dickinson (North Mississippi Allstars). American Songwriter called it "boundary pushing… heartfelt, reflective, challenging and consistently compelling." NPR Music's Robert Christgau said it was her best yet. Of Hallelujah I'm A Dreamer (Archer Records, 2015) No Depression said simply: "pure bliss."
In addition to her solo records and a tireless touring schedule, Amy enjoys working with other artists. In 2012 she joined an all-star collaboration called The Wandering, composed of Amy, Luther Dickinson, Shannon McNally, Sharde Thomas and Valerie June. They released Go On Now, You Can't Stay Here (Songs Of The South, 2012) to critical acclaim and sold-out shows.
In the afterglow of The Wandering, Amy and Shannon McNally hit the road together and released an EP titled Chasing the Ghost, The Rehearsal Sessions (Archer Records, 2012), featuring songs from both artists recorded live during rehearsals for the tour. Amy next paired up with noted Memphis rocker John Paul Keith to create Motel Mirrors. Their styles clearly complemented one another, which made for magic on stage and in the recording studio. Their eponymous vinyl EP release was named one of the "10 Essential Albums of 2013" by No Depression. In 2017 Motel Mirrors released a full length effort, In the Meantime; this record had the addition of some Will Sexton co-writes and his powerful guitar work throughout. Motel Mirrors later released a live recording, Gotta Lotta Rhythm, on the Italian label Wild Honey.
Painting Blue, produced by her husband Will Sexton, captures perfectly the moment that Amy is in. Will Sexton's masterful production and Amy's soft, clarinet-like vocal pour over you, pushing and pulling, stirring and calming. As we've come to expect, this record is honest, revealing and sounds uniquely like no one else.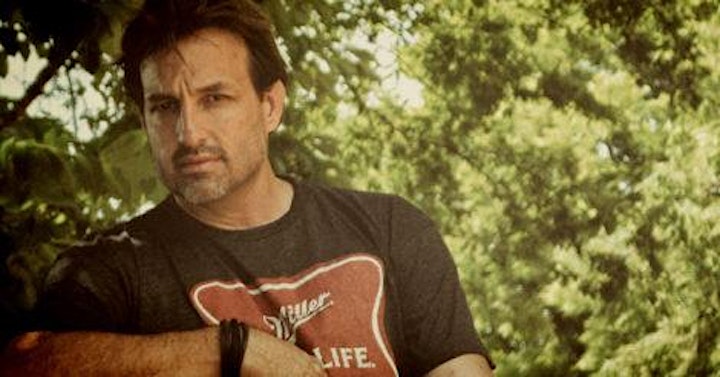 Ramey's first Gold Record came out of the frustrations of commerciali -sm. "I Don't Want this Song to End" was a response to his first publisher's new "rules" about songwriting: No ballads, definitely no waltzes, and no songs over four minutes. Tom Collins, Country Music publisher and producer icon, was Ramey's first go 'round with Nashville's Music Row: "Tom was a great song man and an even better psychologist. He knew us writer's well enough to know we wouldn't be told what to do. I think he just wanted to ruffle our feathers so we would go in a room and write something great, and stop following the formula."
Ramey aspired to follow in the footsteps of Guy Clarke, Waylon Jennings, Kris Kristofferson, Willie Nelson and other outlaws who flew below the commercial radar: "It's easy to get consumed by the hype and sparkle and neon of that town, but I came from the mountains, where you learn that everything man creates is superficial, talk is cheap, and stars fall as regular as acorns off the tree. I learned a lot, but I took a lot of what Nashville had to offer with a grain of salt."
Ramey admits that he is releasing album projects at a strange time. He says of contemporary music and the state of the industry, "We live in an age when the album is obsolete, the song is incidental to the artist's brand, and artists seem only as popular as their pockets are deep. But I still make music the way I want to make it. There are opportunities out there for Indie's these days, so all is not lost; we just have to work a little harder for a little less. Nobody told me this life would be easy, and I don't mind the sweat." With songs like "The Spirit of Hank and the Heart of James Dean," "This Ain't No Country," "Ramblers," "Pocatalico," "Almost Had Me There," "Ain't Gettin' Anywhere," "Lonely Heart," and "Good Kinda Crazy," If you haven't heard of Tony Ramey, once you hear him, you'll wonder why.
Tony Ramey grew up in West Virginia on Bluegrass and Bill Withers, found Willie, Waylon, Cash, and Kristofferson at eleven (who fueled an already firy passion to write songs), then he heard Steve Earle whose songs convinced him to move to "Guitar Town" (Nashville) to hone his craft. He would eventually leave for Texas when the road called him out again...
Somewhere in the middle of his Gold and Platinum records as an award-winning songwriter (see credits), he garnered a Master's degree in Literature, and taught at colleges and universities part-time while working on his PhD, He said "[t]he great poets kept me sharp...Grounded in the craft and discipline of writing."
With the release of his eleventh album, Ramey has the respect of industry folk, and keeps growing his audience with his undeniable prowess as a singer/songwriter. His tour schedule and his passion for performing are evidence that he prefers the troubadour life-style. Between shows he enjoys the solace of his writer's getaway where he says he can "be alone with nature, his thoughts, and the eternal spring of the Art Spirit." Ramey has spent much of his music career flying below the radar, until now.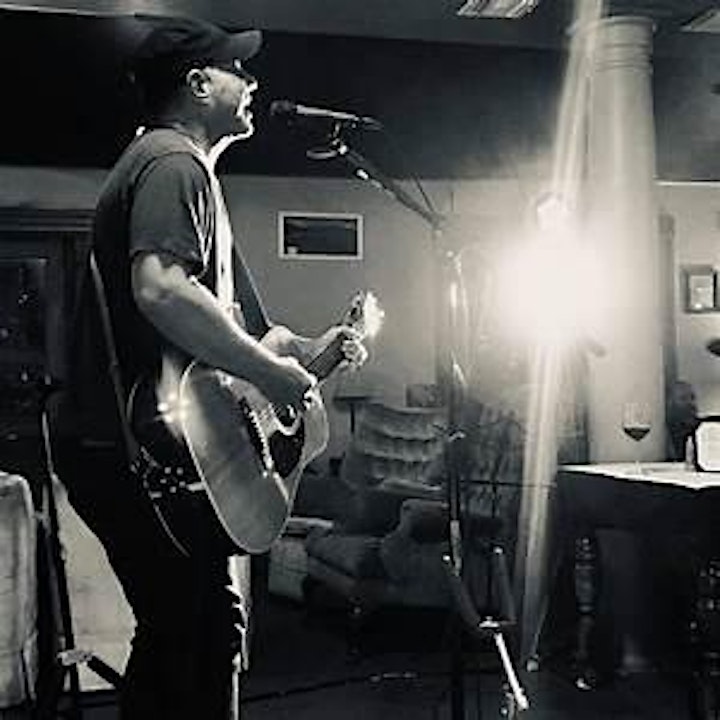 In 2016, Glatz released Multiverse, a 4-track solo EP of lush compositions that Bob Andrews of Undertow Music Collective called "a beautiful sonic landscape," and Jonathan Segal (Camper Van Beethoven, Sparklehorse) described as "really nice, dreamy and heavy." The recording included three original love songs juxtaposing earnest lyrics with a wistful, multilayered production, and closed with a slowed-down, ethereal cover of A.A. Bondy's "Lover's Waltz." Recorded by Steve Tagliere (Gingersol) in Katy, Texas, the tracks were mixed by Duane Lundy of Shangri-La Productions, in Lexington, Kentucky, whose work with Jim James, Ben Sollee and These United States drew Glatz to him. Lundy's knack for delicate, atmospheric touches was right in line with Glatz's production ideas for these deeply personal songs, making it a perfect creative fit.
Glatz was so impressed with Lundy's work on Multiverse that he headed to Kentucky to have Lundy record and mix his first solo LP, Disappear, scheduled for release in the fall of 2019. The recording took two trips, during which Glatz fell in love with Lexington and the entire team Lundy brought together to work on it.
"Obviously, Duane's background speaks for itself — he's a musical visionary, and produces amazing work," Glatz says. "But, beyond that, he has a gift for making an artist feel instantly comfortable and confident. He's generous in the sense that he is absolutely without pretense, and is wide open to ideas. That freed me up to be myself and create without self-consciousness. He knew just the right musicians to bring to the project — not only incredible talent, but an awesome bunch of people. I was inspired by each of them, and, by the end of both visits, it felt like I'd known them for years."
Disappear includes six original tracks by Glatz and a joy-filled cover of Mason Jennings' "Between the Lines." Glatz hopes the dynamic rhythms and multilayered sound give each track something of a luminous glow.
He says, "These are honest and straightforward songs about love and all that can come with it — satisfaction, insecurity, bliss, hopefulness, melancholy and peace. But they're based on pure, raw emotions that are simple and heartfelt. Some are stories I've had in my head for a while. Singing them feels like I'm telling truth without a filter, even when it's not necessarily my truth. Either way, it was very therapeutic to make, and I'm excited for people to hear it."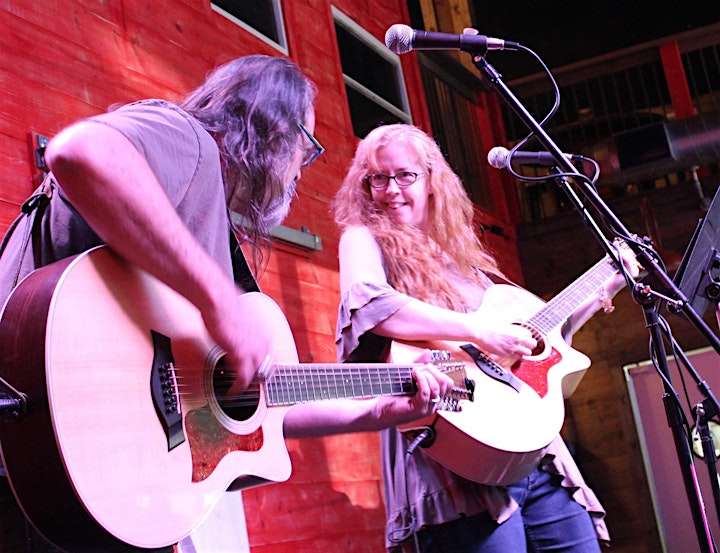 Andrew and Kate Kirby are a songwriting team with a combined musical career spanning more than 30 years. They play as a light acoustic duo or full band. Their sound has been described as a throwback to the feel-good rock music of the 1970's with a more modern edge of the 1990's thrown in. Performing original music at venues from festivals to private parties, The Kirbys are happy to perform at most any kind of event, but enjoy performing most at their venue in what used to be a historic church building - the Big Sandy Music Hall, in Big Sandy, TX.
"We Grew up on the same block and played Star Wars with one another on the school playground. We even shared billing on a piano recital in Elementary School. All of our friends are much the same, until Junior High. Andrew was 'liberated' from the public school system only to find that he had almost the same love for learning in private school as he did in public." Fast forward to 1996, Andrew was working with a company taking him in and out of town, as was Kate. It was in late 1996 that The Kirbys began writing music together and following their path through all things creative. The couple shares art though photography, painting, and found object sculpture, as well as music.
After a 12 year stint in California meeting music professionals, playing, recording and performing, the decision was made to go back home to Texas - specifically, East Texas with pine trees, streams, lakes, family, and more music. "This chapter in our lives has proven to be rich for us. Not rich in the monetary sense, but full of inspiration, and a calling. We believe that we are here to share the love of music, and to enable music to help bring folks together. Come talk to us, when you see us at a show. We love to meet everyone, and are blessed to be doing what we love most: MUSIC."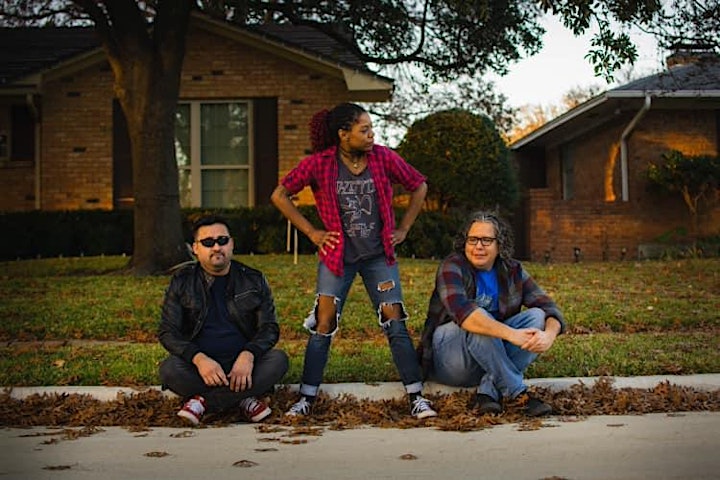 Sunny Disposition is a musical oligarchy created in 2018. It is comprised of 3 factions:
Joshua "Blacksmith" Smith (vocals, guitar)
Sunny "Lady Lit" Marcell (vocals, bass)
Simón "The Manic Hispanic" Correa (drums, green cards)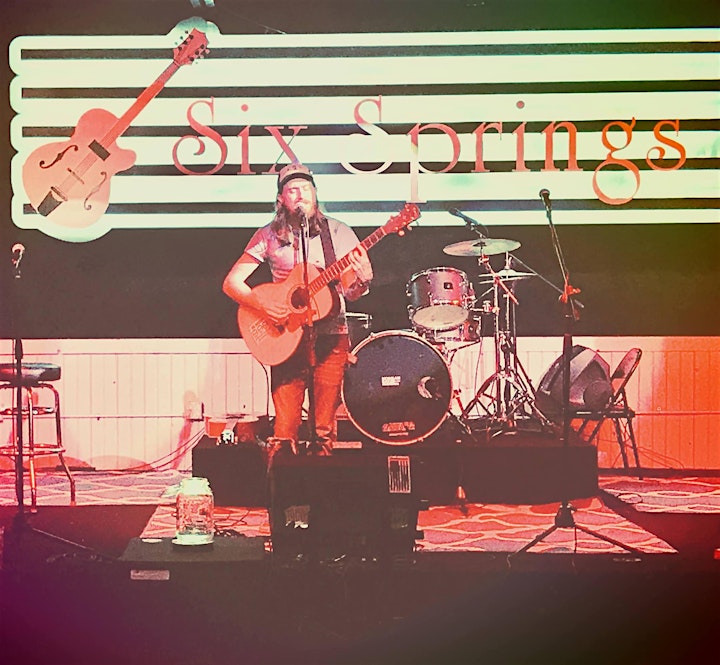 I am a composer, songwriter, musician, engineer, and producer.

I'm interested (and do my best to be involved) in just about everything having to do with creating music of all sorts.

To this end, I write and perform my own songs as Science for Giants, run a small studio and record label, perform with various bands, and compose (often noisy) art music. I'm always seeking exciting new musical opportunities, and working to learn as much as possible about every aspect of the craft.

I'm in constant awe of the places music has taken me so far, and intrigue of what the future holds!

Venue Information:
Six Springs Tavern
147 N Plano Rd
Richardson, TX, 75081