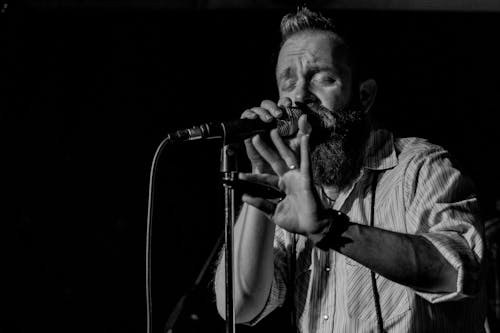 Dustin Arbuckle and The Damnations
The GAWD Almighties, Blue Grassfire
A night of progressive roots music with Dustin Arbuckle and The Damnations and The Gawd Almighties
Dustin Arbuckle and The Damnations
A veteran of the progressive roots music scene, Dustin Arbuckle (Formerly of Moreland & Arbuckle) continues kicking up dust with Dustin Arbuckle & The Damnations. A musician of vast appetites, he's long held an appreciation for traditional American music in the vein of Charley Patton as well as the cross-pollinated sounds of The Band or Stax-style soul. His work with The Damnations allows for that along with occasionally forays into deep country and even jazz.
The Kansas native marks hearing the Leadbelly classic "Gallows Pole" as his earliest music memory, becoming an astute devotee of the blues by the time he'd reached his teens. "That turned out to be a jumping off point, though," he says. "I always loved Howlin' Wolf, but as I got older and started opening my mind to a wider range of music, I'd turn around and listen to the Allman Brothers Band, then Johnny Cash, Sam & Dave, or Tom Petty & The Heartbreakers. I hope you'll hear some of that reach with The Damnations."
Arbuckle, who also fronts the Kansas-based acoustic group Haymakers and is a frequent collaborator with multiple other Midwestern roots music acts, released a live Damnations EP in March 2019, recorded at Minneapolis' Hook & Ladder Theater & Lounge, while laying the foundation for the outfit's first full-length studio LP. (The group released its self-titled debut EP in 2017.)
Arbuckle says fans will hear an evolution in the new music with feet planted firmly in the world of roots music he's known for. "When I formed this group in 2017, I really believed anything could happen, from a musical standpoint," he offers. "What we've done since then has gone beyond my own expectations and I really can't wait to see what we do next."
If you have ever wondered what it would be like to attend an old fashioned tent revival on a Friday night with the likes of Woody Guthrie, John Prine, Pokey LaFarge, Todd Snider, and perhaps Ray Charles showing up at the tail end to assist you in reckoning your demons than look no further than The Gawd Almighties.
Their brand of tunes will have you getting up off your seat and moving your whole body to the beat. From barn burners to protest songs to gospel classics you get it all under one tent. The Gawd Almighties hail from Dallas and a little south of heaven all the way to East Texas and consist of award winning singer/guitarist Rags O'Hooligan III with a persona unlike any other. His preacher like deliveries and punk sensibilities on the state of things will have you questioning everything. Drummer Marcia Keys keeps the steady beat with over 20 years under her bible belt while adding soulful back ups with songbird and keyboardist Regina Debilio. Debilio has the voice of an angel from both natural ability and classical training. Jamie Vahala keeps it real and low for the congregation as he towers over his bass with his versatile experience in the music circuit. Aiden Grace, newest to the Gawd Almighty family, graces the stage with his powerful electric with soaring licks and experienced soloing. It's hard to pinpoint the sound that seems to be exorcised from this group of musicians. You just have to listen for yourself.
So pack up your weekly sins and strife and head over to the nearest venue they will be performing at next. And while you're at it throw on those blue suede shoes, get your spirits on, and dance out those demons.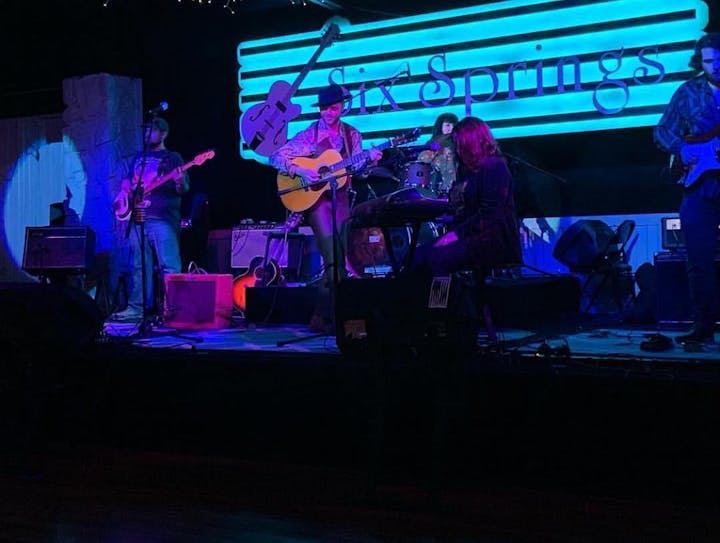 Venue Information:
Six Springs Tavern
147 N Plano Rd
Richardson, TX, 75081