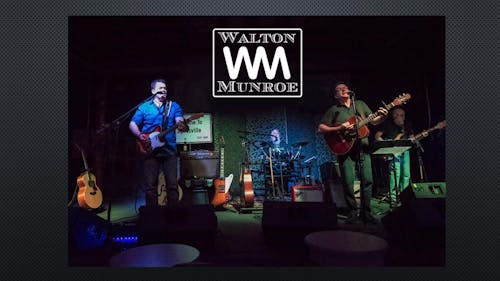 Walton Munroe with special guest Sterling Masters
An evening featuring some of the areas finest songwriters. Andrew Thomas Walton with Clifton Hodges Munroe & special guest Sterling Masters
Andrew Thomas Walton was born and raised in the Dallas / Fort Worth Metroplex. He began his musical career as a drummer even hitting the road full time at 16. However, as Andrew puts it, he picked up the guitar "...because you can't serenade girls on a drum set..." During his high school days, he formed several bands with his brother "Fast Eddie". Together they played the usual nightspots as well as frat and sorority shin - digs at the finest institutions of higher learning in Texas. However, as most bands do, individual members move on to pursue other shiny things. So, after obtaining that coveted sheepskin, Andrew served in various capacities as an officer in the US Army. During his service, he applied his talents where needed in order to boost the morale of soldiers, sailors and Marines serving in exotic locales.
Recently, Andrew (aka "Andy" to friends) returned to the DFW area where his abilities on Vocals, Lead Guitar, Banjo, Dobro and Lap Steel were enlisted in support of several local artists. Noteworthy is his status as a founding member of WALTON MUNROE and as longtime guitar slinger in the Chuck Ligon Band. In October of 2015, Andy produced and released his first full length CD entitled "Love and Litigation". He wrote, sang and played all instruments (except the bagpipes and tambourine) on this project. His efforts were noticed and in 2016, "Love and Litigation" was named an Executive Selection for Best Country / Rock Album by the Akademia Music Awards.
Born Clifton Hodges Munroe in Austin, TX, I have lived in North Texas all my life. I taught myself to play guitar in my teens and began emulating my favorite singer/songwriters such as Bob Dylan, Paul Simon, Neil Young, James Taylor, Jackson Browne, many more, and also fav vocal groups such as Beatles, Simon and Garfunkel, Crosby, Stills, Nash & Young, Eagles, Poco, etc… This is just a tiny percentage of many, many influences both past and present.
I began entertaining folks at parties, weddings, coffee shops and soon was writing my own songs. This led to winning local songwriting contests which earned me opportunities to open for songwriting greats such as John Sebastian, Jerry Jeff Walker and B.W. Stevenson. Later, I moved away from purely performing solo and organized a band that performed around North Texas and Oklahoma. Originally the act was performing only my songs but after some member changes, the group morphed into a R&B/Swing band. After three years the band morphed again and returned to performing mostly my material. Audience members I have met when playing somewhere often mention Glenn Frey, Bob Dylan, Springsteen, Eagles, Joe Jackson or some other contemporary American artists/groups when describing tunes they hear at my performances. "Sounds kinda like…, but not exactly," is often stated. I have released several compilation collections over the years of writing. The latest compilation, "Wherever It Goes" can be previewed here in its entirety. Enjoy the stories, and I'll see you around!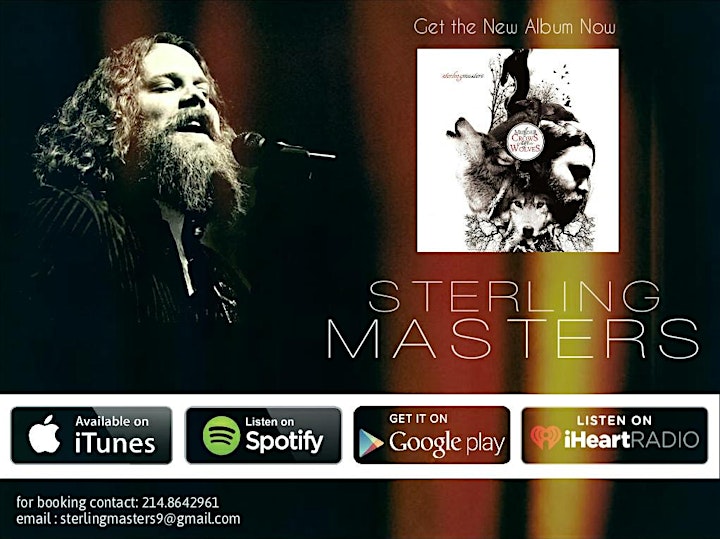 Sterling Masters is an American Singer- songwriter from Dallas, TX.

Venue Information:
Six Springs Tavern
147 N Plano Rd
Richardson, TX, 75081