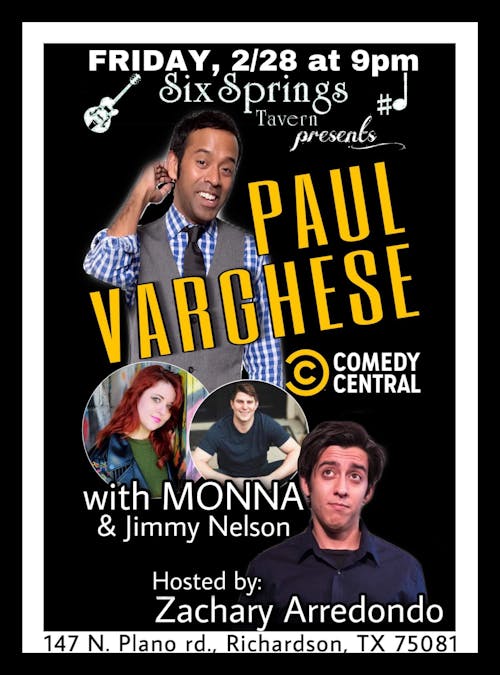 Paul Varghese
Mark Jungers, Brock Zeman
A night of comedy and music!
Paul Varghese's act includes a number of observations about being Indian, providing outsider-looking-in and insider-looking-out commentary, while also exploring an array of topics and issues outside that realm.
He was named by the Dallas Observer in 2007 as the "Best Stand-up Comic in Dallas" and recently won the 2009 "Funniest Comic in Dallas" competition. Varghese has performed at the HBO Comedy Festival, the Montreal and Toronto's Just For Laughs Festivals and the TBS Comedy Festival. His TV credits include Telemundo 2's "Loco Comedy Jam", NBC's "Last Comic Standing," Comedy Central's "Live At Gotham" and he can be seen this October 17th on Showtime's "Russell Peters Presents".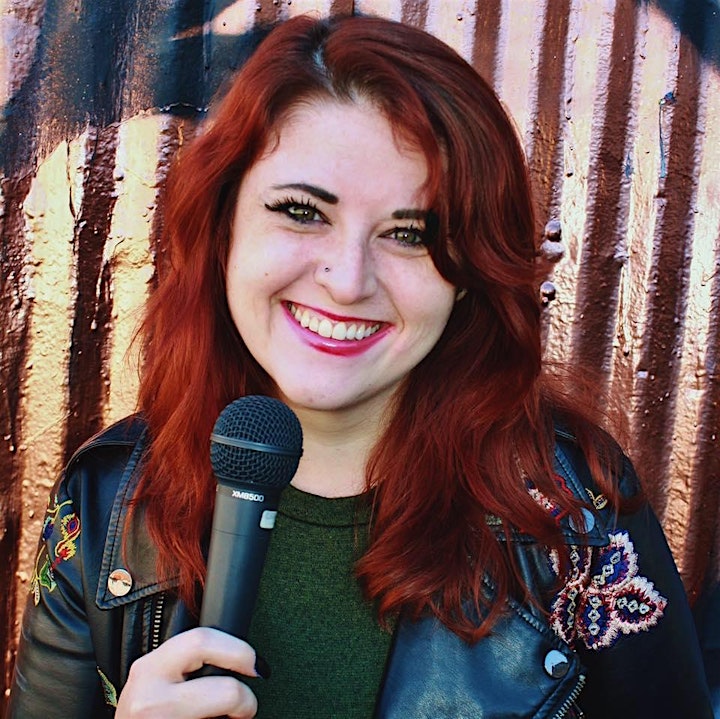 An obvious only child, MONNA is a quick witted stand up comedian with her roots in Fort Wayne, IN and is currently based out of Fort Worth, TX.
Since 2016, she has performed regularly as a feature with the three Hyena's Comedy Clubs as well as the Improv comedy clubs and recently headlined Addison Improv and Dallas Comedy House. She has also worked as a headliner for the inaugural Plano Comedy Festival (Plano, TX) and Colfax Comedy Festival (Denver, CO). MONNA currently runs three weekly open mics (Mondays for Laugh Your MASS Off Open Mic at M.A.S.S. in Fort Worth, Tuesdays for STFU Open Mic at Twilite Lounge in Fort Worth and Wednesdays for Pay Your Dues Comedy Open mic at Vetted Well in Dallas) and is the producer of "Claws Out Comedy" which are shows that feature talented local and touring female comedians.
Over the years, MONNA has worked with many widely respected comedians including Theo Von, Dan Cummins and Eddie Pepitone.
MONNA balances her dark sense of humor with nuanced wordplay and silver linings as she delves into sensitive subjects- ranging from romantic relationships to living with a mental illness (bipolar disorder).
She is also a board member of "Vulgarity for Charity"-a charitable organization that uses comedy shows as a platform to raise funds that provide financial assistance to those who have been left behind by loved ones who committed suicide.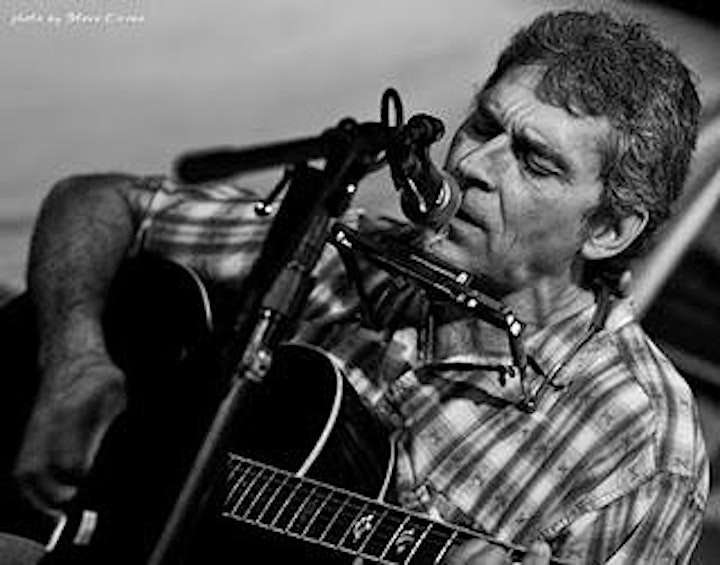 In life and in art, Mark Jungers is a reality dealer. A trailblazing Americana singer, songwriter and musician with By God sod busting roots, Jungers lays out the perils, the pitfalls and the pleasures of life in equal measure. And, accompanied by a like-minded music-making crew, Jungers uses a mixture of country, folk, rock and more to get that reality across with soul, conviction and a solid backbeat.
Jim Beal, Jr.
Freelance music journalist
KSYM- Third Coast Music Network DJ
On his 7th release, "I'll See You Again," Mark Jungers spins tales of fate, misconception, conditional and unconditional love; and murder. With the gray-colored populist sentiments of Woody Guthrie to the black as night swings of Cohen, the songs are strong and reminiscent of Petty, Young, or Cash (Unchained).
Life is the fallout of good and bad decisions. Would things be different if you hadn't moved away? Did you make the right choice? Such are the matter-of-fact questions raised in "I Don't Want To Live There."
The song, "Johnson Farm," recounts a desolate family who lives down a small country road, just past a cemetery. The youngest daughter dies in a gun accident, driving the father over that emotional cliff, where he takes the lives of the rest of the family and then, himself.
On being the hardworking underdog, Mark relates the everyday trappings that the working class lives with in "Working Like a Dog." He meets his audience head to head here, because so many feel the constant looming storm of working paycheck to paycheck, doing jobs nobody wants.
As with all of Mark's CDs, there is no sameness to the tracks on this latest album, but they all reflect a common life thread that connects, and Jungers accomplishes this with an instantly appealing roots music approach.
Mark Jungers' songs are full of finely developed characters, whose beautiful desparation shine through the authenticity of Jungers' voice. Texan, via Minnesota, Jungers has honed his rock tinged country songs for the last 20 or so years.
... Songs like, "I Don't Want To Live There" and "Do You Still Care" are perfect examples why more folks should be aware of Mark Jungers.
Adam Dawson
thebrokenjukebox.com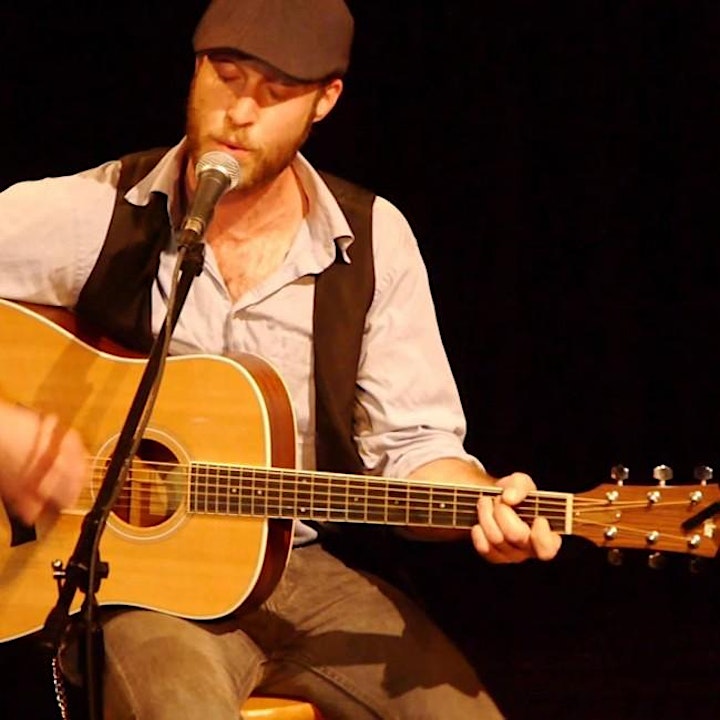 When it comes to storytelling, Brock Zeman is a master craftsman. The Canada-based singer-songwriter has spent the past 12 years carving and chiseling Americana soundscapes, drawing from roots-rock and alternative country. But what separates Zeman from his contemporaries isn't a willingness to speak truth – it's his unwillingness to conform to the rules of Nashville and the traditional framework of genre. What gives Zeman's stories force isn't that he's just singing a narrative – he's living it.

Brock-Zeman-photo-by-Jamie-KronickOver the course of his career, Zeman has released 12 studio albums, one live record, toured North America extensively and received praise from numerous press outlets. "His songs have more depth than can be realized first time through, which only enhances with each listen," wrote Penguin Eggs. Zeman has also won a slew of songwriting awards, including 2nd place at both 2016's Unsigned Only Competition as well as the International Songwriting Competition (ISC) for his track "Pulling Your Sword Out Of The Devil's Back." In 2017 he returned to ISC as a finalist with his song "Dead Man's Shoes."

"I was inspired to write from the feeling I got when I listened to music," Zeman recalls about his childhood. "I always hoped I could pass on the same overwhelming feeling to others."

Beginning his career as a punk rocker, Zeman's musical tastes gradually expanded to a love for country, bluegrass and roots. After years of experimentation, and with the help of longtime collaborator Blair Hogan, he carved a place for himself in the realm of Americana. His discography spans 12 albums – plus one live record – over 12 years, including his most recent releases: The Carnival is Back in Town (2017), Pulling Your Sword Out of the Devil's Back (2015) and Rotten Tooth (2013).

With an acoustic guitar and rhaspy voice, à la Greg Brown, Tom Waits and Mickey Newbury, Zeman has managed to preserve the DIY ethos of his punk rock upbringing. He's an engineer and producer who not only tracks his own material, but has recorded other artists in his Ontario studio (called The Big Muddy), including Nashville troubadour David Olney. He also does voice-over work for television, and created his own booking agency named Green Room Music Source Canada.

Brock Zeman's 13th studio album is expected out in spring 2018. He'll be out supporting the release on tour in North America and the UK throughout the year.

Venue Information:
Six Springs Tavern
147 N Plano Rd
Richardson, TX, 75081