Ally Venable Band
KALO, Blues Love and Trouble
$15.00 - $150.00
Sales Ended
Female fronted Texas Blues Rock!
There's something about Texas. Open up the history books and you'll find the Lone Star State at the eye of every rock 'n' roll storm. Pull up a stool in any bar-room and you'll still hear Southern gentlemen spin stories of ZZ Top, Johnny Winter and Stevie Ray Vaughan. Now tip a ten-gallon hat to the bandleader writing her own name onto the state's famed back pages, as Ally Venable releases breakout third album, - Texas Honey Debuted as #2 on the Billboard Blues Charts featuring Eric Gales and Mike Zito.
A Power house from the Lone Star State, the Ally Venable Band has ignited excitement in the modern blues scene. Lead guitarist and vocalist, Ally Venable, started singing at an early age in church and at 12, picking up a guitar and finding her passion, established herself as a Texas Blues Guitar Slinger. Guitar Player Magazine stated that " Venable pulls off a stunner of gritty and/or sultry blues rock tunes embellished with lots of tasty guitar solos."
She has received many awards including the East Texas Music Award in 2014 and 2015 for "Female Guitarist of the Year" , three time winner of the "Blues Band of the Year," "Album of the Year," and "Entertainer of the Year," in 2018
2nd Place - Dallas International Guitar Show 10 Under 20 Contest 2015
Ally's 2018 release 'Puppet Show' debuted at #7 on the Billboard Blues Charts, featuring Gary Hoey & Lance Lopez.
Each of Ally's band mates are versatile on multiple instruments. Drummer, Elijah Owings brings a steady, and dynamic sound. Bassist, Braeden Stubbs & Keyboardist, Fernando De Los Santos bring a classic and energetic style when performing with Ally. They are the backbone of the band's Rockin' Blues sound, and they continue to represent the future of the blues.
Record Label: Ruf Records
Robin's voice has a unique, golden quality. Robin's singing/songwriting style is mellow, smooth, and distinct, with undertones of jazz, blues, and folk.
Robin Willis's soul-stirring voice is known for taking her audiences to a new level with each performance. Robin's stunning voice has been called a
"wonderful, marvelous instrument" and her stage presence "something you have to experience."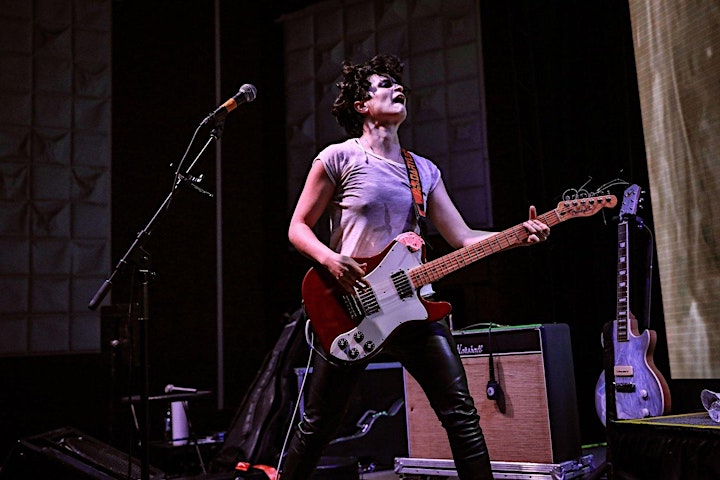 Israeli guitarist, singer and songwriter Bat-Or Kalo fronts her eponymous trio and also travels and tours the U.S. and Israel solo (wearing only her last name and her vintage Gibson electric guitar). Fiery, unbridled and electrifying, KALO's guitar chops and contralto voice are a force like none other. Sexy guitar. Infectious rhythms. Smoky vocals. KALO is groovesome rhythm & Blues meets fiery rock 'n' roll.

KALO defies convention, channeling power trios like The Police, The Jimi Hendrix Experience, Rush or Cream. Much in the vein of Led Zeppelin, the band fuses blues-influenced songs with rock and roll anthems and electric shows. With only a bass, guitar and drums, the band delivers powerful stage performances and an unparalleled sound.

Within the past two years, KALO has opened for Los Angeles-based rocker Andy Frasco, the godfather of British blues, John Mayall, Texas guitar phenom Chris Duarte and others. KALO has shared billing with acts like Avett Brothers, Robert Randolph & the Family Band and many more.

They were nominated for an Independent Music Award in the 2017 Best Alt/Indie Rock Album category for their album Wild Change

Born in Haifa, Israel, Bat-Or Kalo previously lived in New York City, playing as a guitarist in funk and fusion bands in NYC, including with the Dave Kolker Band and others. Her preferred guitar is her vintage 1950s Gibson Deluxe , but she's also known to pick up a Joel Edison resonator. While she's exclusively been a musician while living in the United States, she's also done stints in the Israeli army, in a sushi restaurant and bakery in Tel Aviv and various other jobs she didn't like nearly as much as playing her guitar. She is a graduate of Oklahoma City University's music program, and has even been seen strutting as the guitar player in the ensemble of Matthew Sweet's Girlfriend.

Venue Information:
Six Springs Tavern
147 N Plano Rd
Richardson, TX, 75081